【お問い合わせ : Contact】
Tel: +81-(0)3-6433-0481
Email: info@tokyo-equipment.co.jp
【アクセス : Address & Access】
住所: 〒140-0011 東京都品川区東大井5-11-9 芝崎ビル2階
Address: 2F Shibazaki Building, 5-11-9 Higashioi, Shinagawa-ku, Tokyo 140-0011 Japan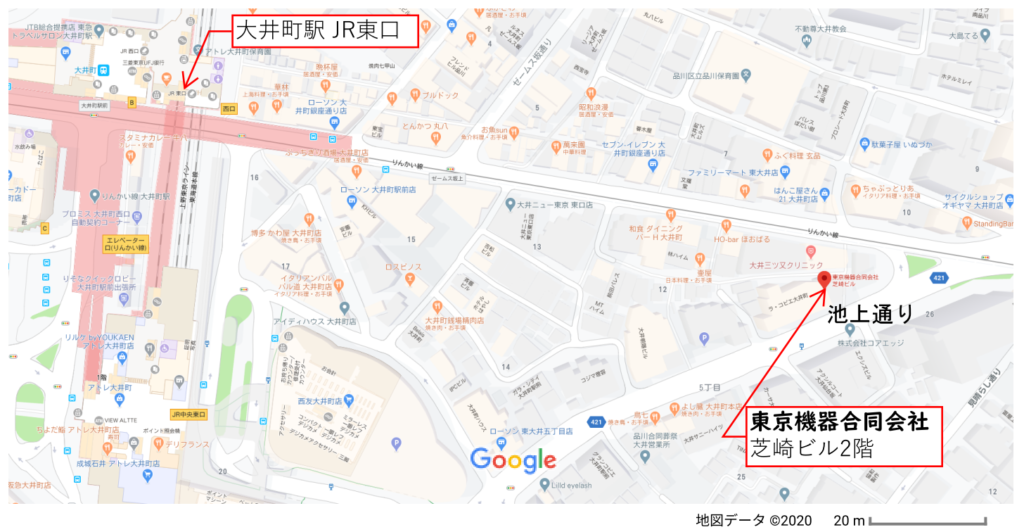 京浜東北線、りんかい線、東急大井町線 大井町駅から徒歩5分、もしくは、京急本線 鮫洲駅、青物横丁駅から徒歩10分にある芝崎ビルの2階が事務所で、ビルの入口は池上通り沿いです。
[Access from Narita Airport]
Nearest staion from our office is Ōimachi station, it will takes around 5 min walk from there.
From Narita Airport (NRT), there will be multiple way to access Ōimachi station though,
we recommend to take Narita Express (N'EX) from NRT to Shinagawa station.
The ticket of N'EX is available on line https://www.jreast.co.jp/e/nex/index.html?src=gnavi
or at Ticket Offices / Travel Service Center in NRT https://www.jreast.co.jp/e/nex/service_center.html
Then you should change train to JR Keihin Tohoku Line at Shinagawa station (Lane 5).
Ōimachi Station is next stop from Shinagawa Station by JR Keihin Tohoku Line.
You will be able to find our office by google map, check " Tokyo Equipment LLC ".
Shibazaki building is gray color building and there is dry cleaner's shop in the ground floor, and our office is 2nd floor of the building.
If you could not find the way to our office still, please just give us a call: +81-3-6433-0481